Forma en la UDEM su trayectoria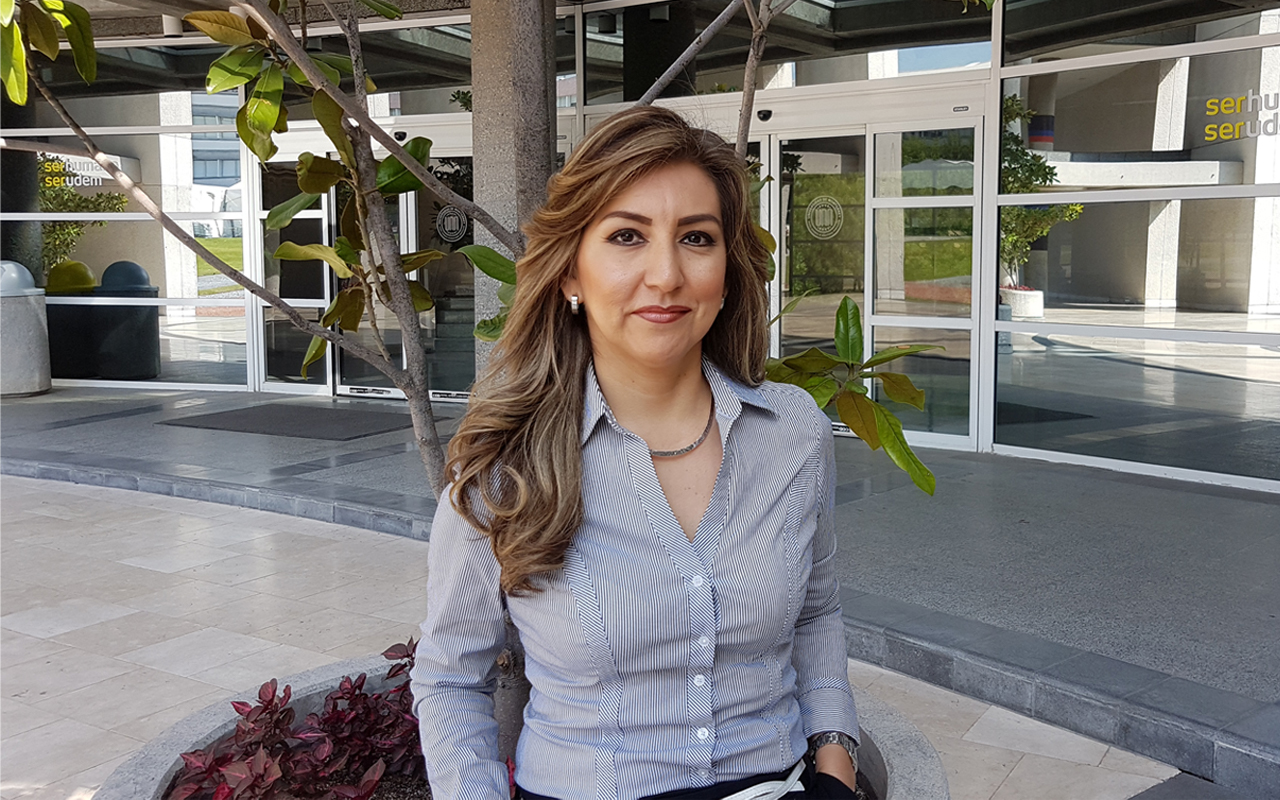 Credits: archivo UDEM
Tras haber sido preparada en las aulas de nuestra institución, ahora Karla María Nava Aguirre se encarga de trasmitir los conocimientos obtenidos en su carrera a sus alumnos dentro de su alma mater.
"Siempre he tenido puesta la camiseta UDEM, tanto es mi apego a la Universidad, que en el 2015 me invitaron a formar parte del Club ExaUDEM de Ciudad Victoria, cuando aún vivía allá, y me convertí en la presidente", nos comenta Karla, quien desde el 2017 regresó a a la UDEM como profesora.
Graduada con la distinción CUM LAUDE y con un Doctorado en Ciencias Administrativas, Karla María Nava Aguirre, es profesora investigadora titular en la Escuela de Negocios en la Universidad de Monterrey. Ha sido ponente en Congresos Nacionales e Internacionales, pertenece al Sistema Nacional de Investigadores (SNI) y es Par-evaluador de los CIEES y CACECA, ambos, pertenecientes al COPAES.
Cuenta, además, con el grado de Global MBA for Latin American Managers de Thunderbird, the School of Global Management (Phoenix, Arizona) y está certificada en Alta Dirección (International Leadership and Management Certificate) por la Universidad de Georgetown en Washington, D.C.
Todo esto es resultado de un gran esfuerzo y dedicación por parte de la catedrática, iniciando su trayectoria profesional cuando aún era estudiante. Tuvo la oportunidad de trabajar en el Consejo Nacional de Comercio Exterior Noreste (CONACEX ahora COMCE, Consejo Mexicano del Comercio Exterior), y, recién graduada, entró a General Nutrition Centers, S.A. de C.V., para luego migrar a Exportaciones en Distribución Internacional en York International, S.A. de C.V.
Karla fue la encargada de la apertura de la Licenciatura en Negocios Internacionales en la Unidad Académica de Derecho y Ciencias Sociales de la Universidad Autónoma de Tamaulipas, para después convertirse en la Directora de este programa durante 10 años. A la par, fungió como Profesora de tiempo completo de la Licenciatura en Negocios Internacionales y de la Maestría en Derecho con énfasis Fiscal de la misma universidad, enfocada en las áreas de Comercio Exterior, Legislación Aduanera, Logística, Negocios Internacionales, Relaciones Internacionales e Investigación.
Desde el 2017, Karla es miembro activo de la Academy of International Business (AIB); miembro fundador del Comité Teaching & Education AIB y Co-Chair del track Global and Regional Supply Chain de AIB Latinoamérica y el Caribe, y, recientemente comenzó a ser Consejera de la Academia de Ciencias Administrativas (ACACIA) y es responsable del Capítulo Administración Estratégica.
Actualmente, la profesora imparte las clases de Ambiente de Negocios Internacionales, Estrategias para el Mercado Global, Metodología de Investigación para Negocios y NAFTA Business Environment a nivel licenciatura y posgrado, y es asesora de Proyecto de Evaluación Final, en la Universidad de Monterrey para estudiantes de profesional y posgrado.